We came across Marie Flanigan's stunning HQ office in Houston today and fell in love with how she used light, architecture, simplicity and surprise to create such an open, airy and fresh space that is filled with interesting antiques and vintage pieces. Here are some of her powerful tips to make a home office sing. Enjoy!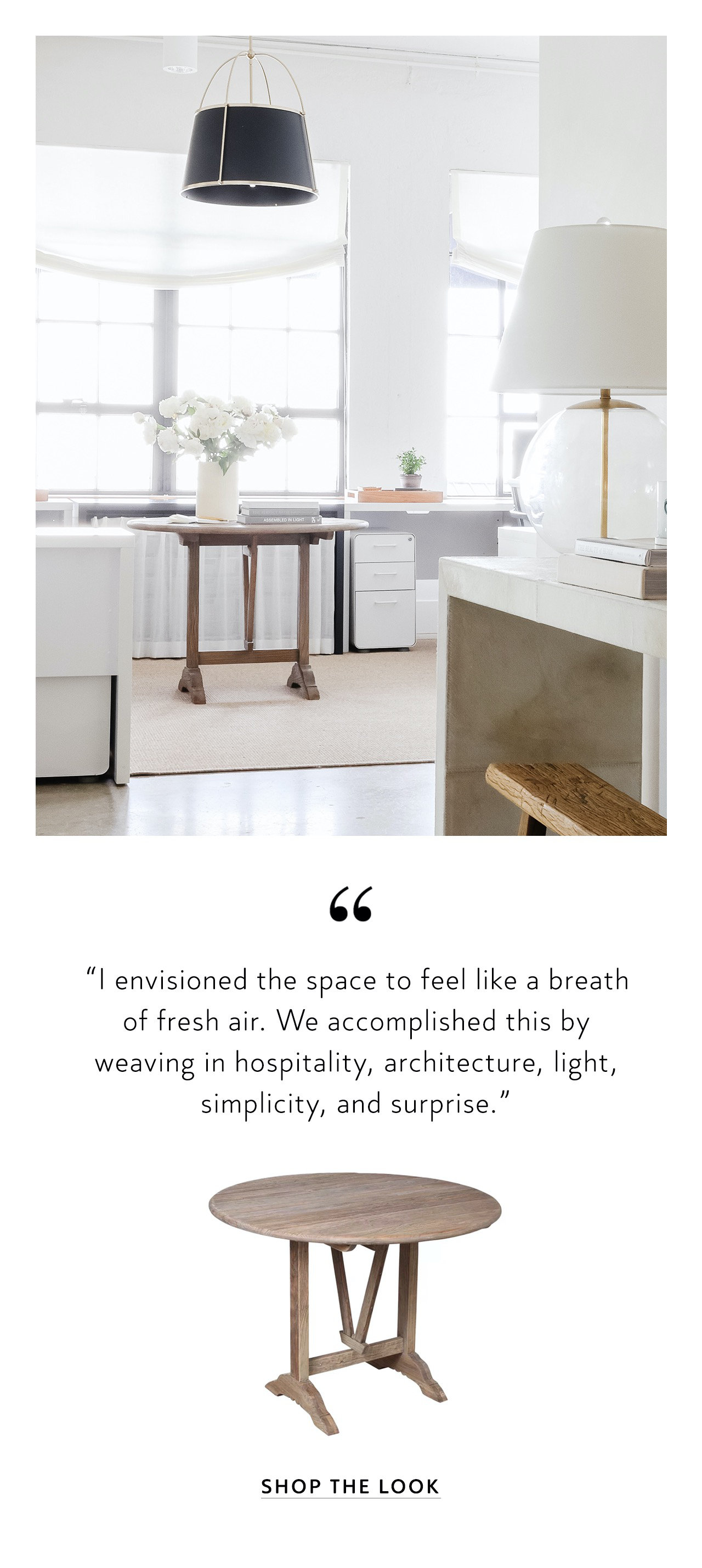 Shop Elm Solid Wood Dining Table By Clicking Each Image Below
Shop Aerin Morton 1 – Light Bedside Table Lamp By Clicking Each Image Below
"I envisioned the space to feel like a breath of fresh air. We accomplished the by weaving in hospitality, architecture, light, simplicity, and surprise." We are so please to see that she incorporate an extra layer of antiques and vintage pieces to make the space interesting.
"We prioritized selecting furnishings that would help us operate at a higher level , like comfortable office chairs and beautiful baskets for storage." We totally agree with this. A comfy and stylish office chair can always make a chic statement while keeping you feel comfortable.
Shop Joli Armchair
The artworks often show the soul of the room.
Shop Beale Dining Chair By Clicking Each Image Below
This dining chair is an original creation for every room of the home, featuring mixed media and stunningly unique. Unusual and sometimes rare materials are sourced from all over the world to achieve this product.
Susan Hable Collage Series – Utopia by Susan Hable
Susan Hable Collection
Born and raised in Corsicana, Texas, Susan Hable Smith resides in Athens, Georgia and is the artist and designer behind the boldly colored and hand-drawn patterns of Hable Construction Design Studio. Susan has a fine art education with experience in collage, sculpture, welding, drawing, printmaking, and painting. Most recognized by her sensibility with color and form, she's honed an aesthetic that's timeless. Inspired by travels to Italy, Asia, and South America as well as her garden and community, Susan's work has a global appeal with an intimate presence.
"Whites, greens, camels, and rusts bring me peace and serenity, and raw materials like wood, linen, and unlacquered brass feel warm and inviting."
Shop Eloquent Hand-Knotted Wool Oriental Area Rug In Beige
Click here to shop more chic home office furniture
Click here to check out our latest updates on Labor Day Sale that you cannot offer to miss.
Contact us for our design service
Happy Tuesday